Glénan Islands
Coastal excursion and Aven
Pay-per-view trips
Gift Voucher



Boat Trips

Glénan Islands

Glénan Island : Saint Nicolas
round trip Adult (from 12 years) 45€
Kid (from 3 years) 30€

Departure from 6 bookings

The departure is at the Harbor of Pointe de Trévignon in the morning, it takes about 20min to reach the archipelago, we navigate then in the "room" near the various islands, the circuit is commented on the history of Glénan until the arrival.

Then you make a stopover of about 3 hours and a half on the island Saint Nicolas. During your stopover, walk around the island, you can cross the sandbar to reach the island of Bananec at low tide, beach, swimming, sand-castle and idleness are on the program.

There are to solutions for your lunch : you can bring a picnic or you have to book one of the 2 restaurants there.
- "Les Viviers des Glénan" at Castric (seafood restaurant) 0298506890
- "La Boucane" (brewery) 0298506900


The return is expected in the middle of the afternoon accordind to your departure time.

The boat leaves with a minimum of 6 passengers.

Glénan découverte reserves the right to cancel or postpone the trip in case of bad weather conditions. Provide sunscreen, cap or hat, a bottle of water and clothing adapted to the weather.
Top
Coastal trip and Aven

Non-stop coastal sea trip
Adult (from 12 years) 25€
Kids (from 3 years) 20€
Departure from 6 bookings
Non-stop coastal sea trip from Trévignon to Kerdruc. You will discover the back of the castle of Trévignon, the beaches, we will pass between the Green Island and the island of Raguenez to then reach the cove of Rospico and its cliffs to finally reach Port Manech and navigate in the river of the Aven. Duration of the trip : 1h15.
Top
Pay-per-view Service

Contact us for any proposal:
Sunset,
Privatization of the boat,
Works council,
Start of races
Nautical event,
Maritim works ...
family party
birthday
bachelor party girl/boy
Give a Boat trip as a gift
We will send you a Gift Voucher valid for one year.
Retour
Top
Suivante
Good Practices in the Glénan Islands Natura 2000 Space and the Coast (in french)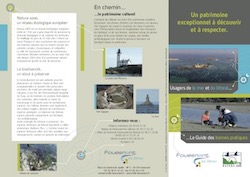 Clic on the picture to see the PDF file